Here are some books, written by us or our friends...
'How to Make A Crisis Out Of A Drama'
How to Make A Crisis Out Of A Drama, by Nick Hennegan.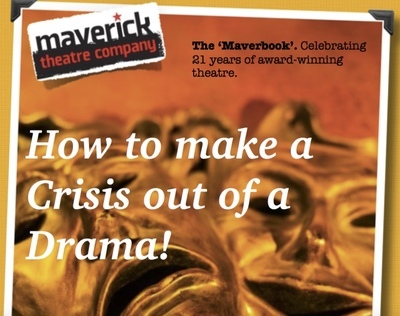 Nick Hennegan started Maverick in 1994. He is a multi award-winning writer and producer, including being nominated for the millennium ' Creative Briton'.
Back in 1997, he was struggling to start Pub Theatre in Birmingham and wrote a 2-handed play about a Brummie man down on his luck called A Ghost of A Chance. Amazingly, he found he had an internationally acclaimed theatre director, a national treasure as a lead actor... and a small boy as the second actor. And it won a Guinness Award through the Royal National Theatre. And Arts Awards from Birmingham City Council Arts and West Midlands Arts. So he wrote a book - a stream-of- consciousness diary - about how he would try and get all these brilliant talents together to make a new show with huge talents in a tiny pub room! Would it work..?
Nick writes with humour and candour about the trials and tribulations of running a small-scale theatre company, growing up in Birmingham and in the best tradition of 'stream-of-consciousness' writing, evaluates the theatre scene in the UK and looks at larger life in general .
"I laughed a lot. And occasionally shed a tear!" John Slater
"Perfect if you are thinking of starting a theatre company. Although, actually, perhaps you SHOULDN'T read this..." Peter James
(PLEASE NOTE: The memoir contains scenes some may find upsetting.)
Confessions of A Butcher Boy, by Norman Raybone
(Edited by
Nick Hennegan)
This is a book, from the era of the Peaky Blinders, Frank McCourt, author of Angela's Ashes, might have loved.
This book is important for a number of reasons. It deals with a unique time in British history. Norman's story is that of 20th Century Britain, from its beginning with Zeppelin raids over the UK during the First World War, through the Second World War; the birth of the NHS; IRA bombs and the Millennium. It also has no agenda. And surprisingly little emotion. Norman's tenacity and timing with his writing means he is perhaps one of the very first 'citizen journalists.' Technology now allows many people to record their life stories and recollections. But Norman was one of the first, perhaps unwittingly, to use the new technology of the time, the PC, to tell his story.
All for the love of his family.
The true story of a Brummie boy, from the time of Peaky Blinders to the start of the new century. Available in hard copy or ebook. First Edition.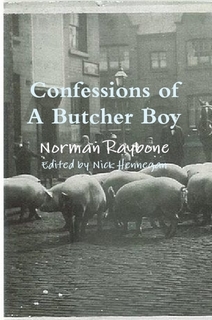 Copyright The Maverick Theatre Company.